Description
Building A Chicken Coop Ebook
by Bill Keene
No special tools required –  I designed these plans specifically for beginners. By building a chicken coop with my blueprints you can avoid wasting money on expensive tools. We stick to the basics.
Easy To Build Plans – Our "How to Build a Chicken Coop" guides include brilliantly detailed color step-by-step plans with scale diagrams and dimensions so simple that even a child could follow them.
Save Money  – By saying yes to building a chicken coop; on average our users save about 50% over buying a premade coop. Those savings can add up to hundreds (sometimes thousands) of dollars.
Print As Needed – My downloadable format allows you to print off as many copies as you need in case your lose or dirty a copy, or if you require multiple copies for those helping you build a chicken house.
Backyard Chicken Coops Are A Growing Trend With Year After Year Search Growth.
Building a Chicken Coop
Building a chicken coop does not have to be tricky nor does it have to set you back a ton of scratch.
Making the decision and discovering how to build backyard chicken coops, will be one of the best-made decisions of your life.
Say hello to free fresh organic eggs daily!
Now greet that high-quality fertilizer for your garden!
Show off your Master Craftsmen side with easy-to-follow chicken barn plans so you can build the perfect backyard chicken coop.
Building a Chicken Coop is Common Sense
It is simple logic. You'll spend so much annually on eggs and fertilizers, but what if you can skip out on paying for those extras? Not to mention the headaches and hassles of assembling pre-made chicken coops.
It does not take a Harvard degree in 'Chicken Coop Building' to realize you already have to put pre-built chicken barns together, fitting this piece with that piece, so why not start from scratch?
Save time, money, and stress of reading instructions on building a chicken coop when you start from scratch, using affordable and simple backyard chicken coop plans.
Besides, pre-built coops that make you assemble them anyways, bolster a large price tag, forcing insanely inflated prices for low-end material. Find the right plan here and start building a chicken coop of your very own today!
I understand that building a chicken coop can seem like a hard project. Working out dimensions, materials, insulation, ventilation, lighting, positioning, nesting, perches, waste collection and protection from the elements and other predators can seem complicated, but it doesn't have to be.
Use My Proven Experience When Building a Chicken Coop For Lasting Results
Luckily, for you, I use my vast experience of the Poultry industry, to develop, create, and construct utterly amazing and extremely affordable chicken coops, based from easy to follow guides and chicken coop plans.
I've created an easy to follow guide to building your own backyard chicken coop. It's designed for the beginner, so you don't need carpentry skills. Gather your materials, plan, and tools to start building a chicken coop now!
My Chicken Coop Plans have helped THOUSANDS of people…
Here are a few examples:
HERE ARE JUST SOME OF THE FEATURED PLANS YOU CAN BUILD!!!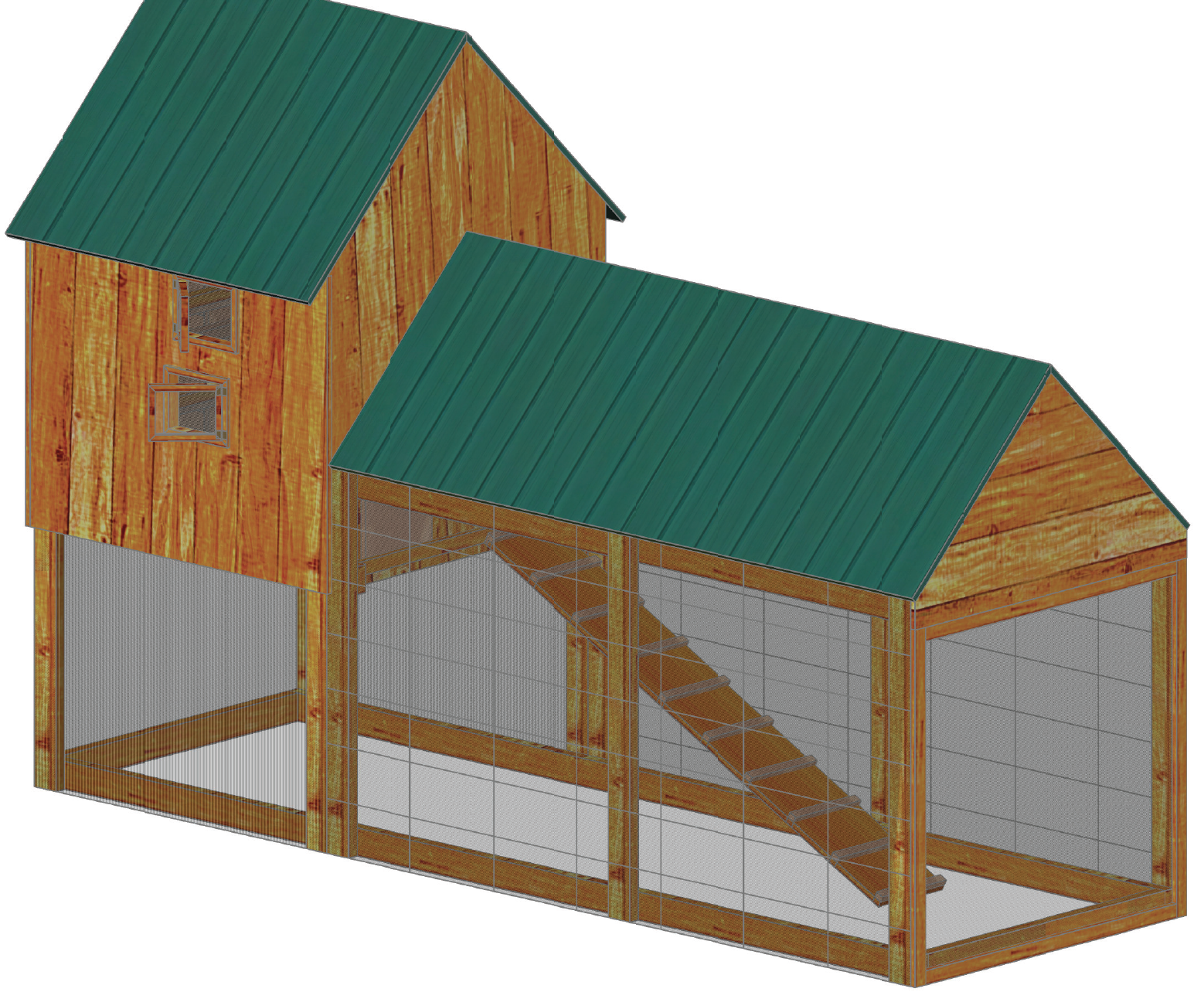 Design #1: Bill's Coop- For obvious reasons, this is one of my personal favorites. This coop features a suspended upper house with a full range below, a ramp for easy entrance to the upper level. This design has my personal touches and I have had some clients throw wheels on it after building for easy portability.
---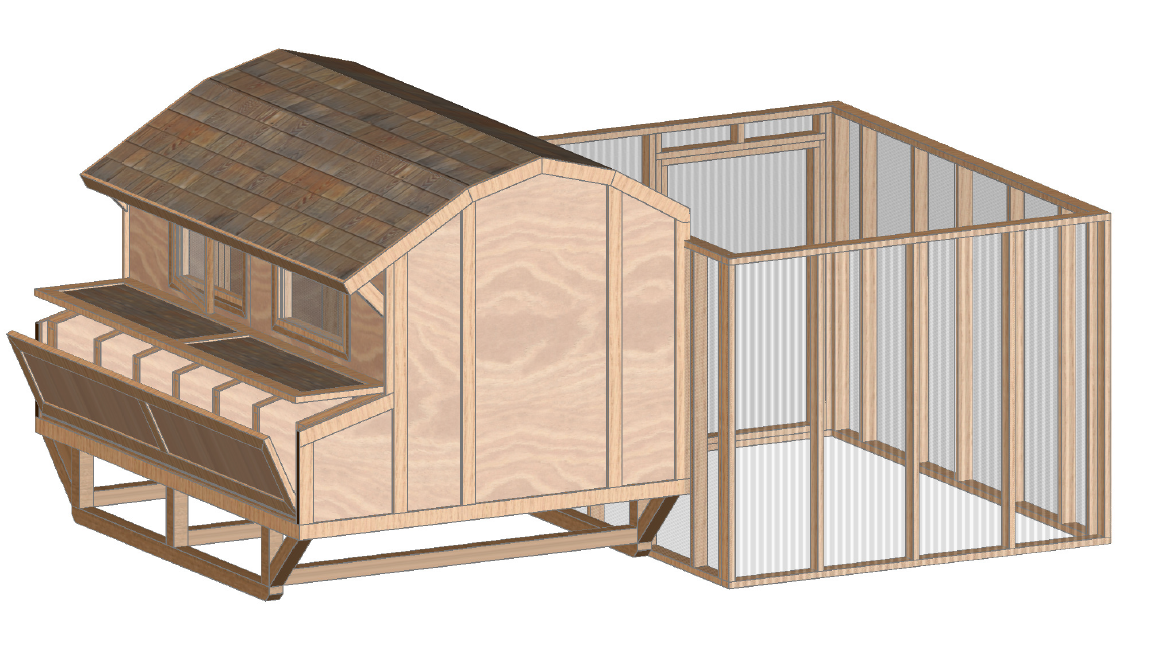 Design #2: The "All-Arounder" Chicken Barn- Sizes: medium to large chicken coop plans. Easy to clean nesting box saves time, two closable areas with built-in roosts. Versatile and loaded with plenty of options for your poultry's every need.
---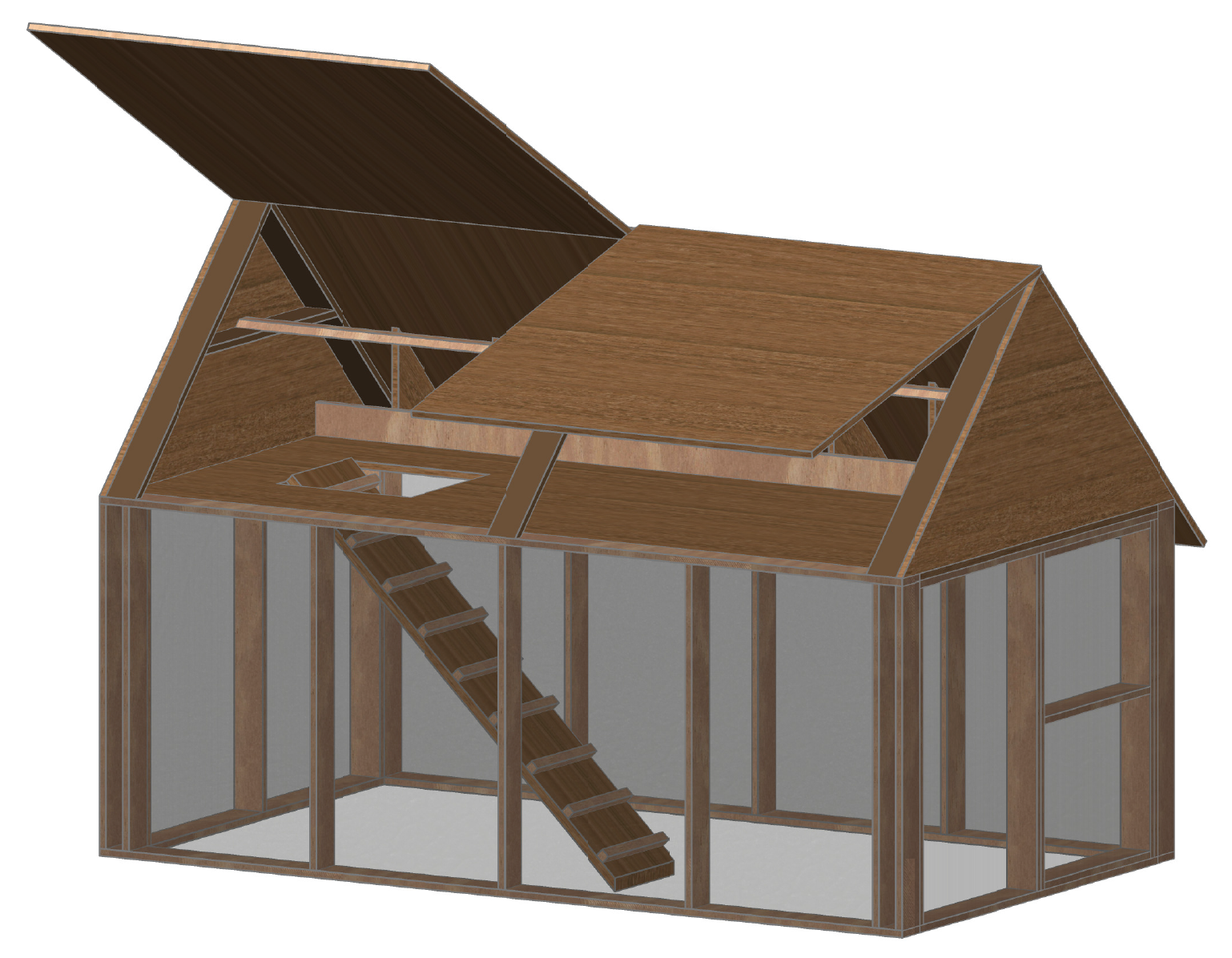 Design #3: Double Story Chicken Ark- If Noah had this on his boat… he could have had much more than 2 chickens! It is a tremendous plan that stacks a roof that opens and closes for easy access. The construction is sturdy and is great for areas lacking space. Perfect for small areas.
---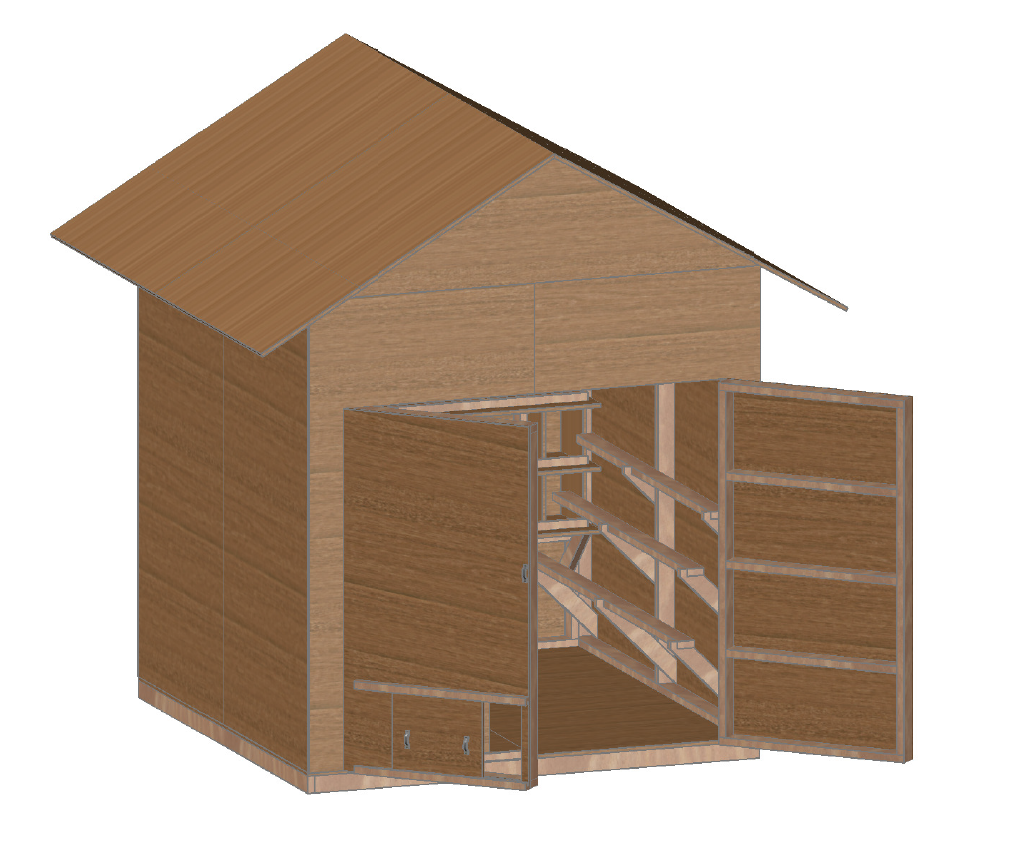 Design #4: Large House- It's all in the name! This design brings true indoor coop living to your chickens. A large open plan leaves plenty of room for your creative touch. The large house with a few adjustments can be aesthetically made to resemble a real house, which is quite common. Throw on a picket fence to round it off and create a great outside pen area. A remarkable design that's tough to beat!
---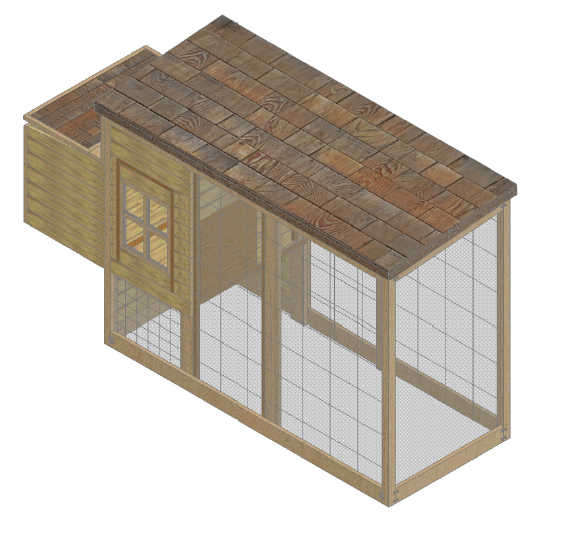 Design #5: The Mid-size Sedan- While this design can accommodate more chickens; it will not take up as much room as the bigger version. A simple plan with a range is a step up from the smaller ones, usually fitting two feeders, increasing the functionality of your chickens' environment. Most everyone can find satisfaction with this design.
---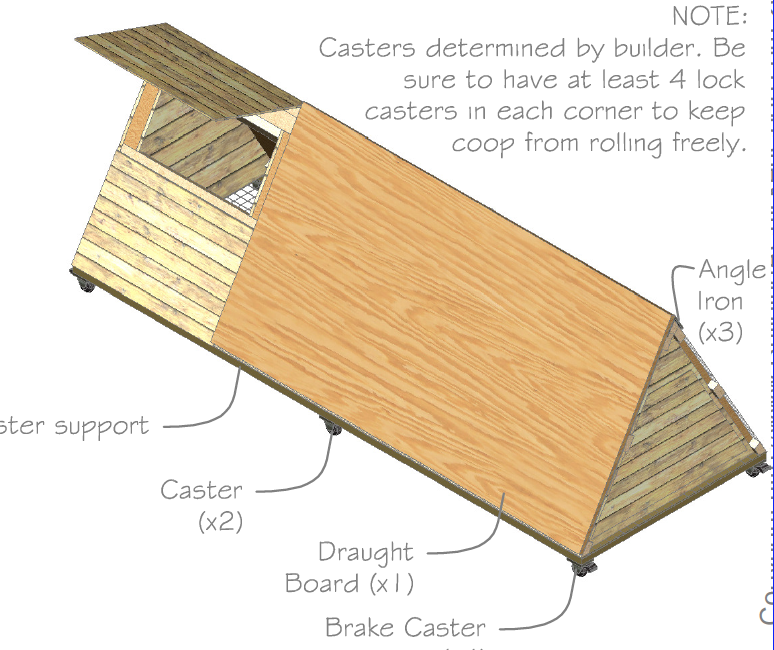 Design #6: On the Go Portable Ark Coop- Portability meets cost efficiency with sophisticated design.  This small but extremely effective coop provides less maintenance and a surprising amount of room for superior comfortability and maximum portability. Transporting has never been as easy as it is with this chicken coop design.
---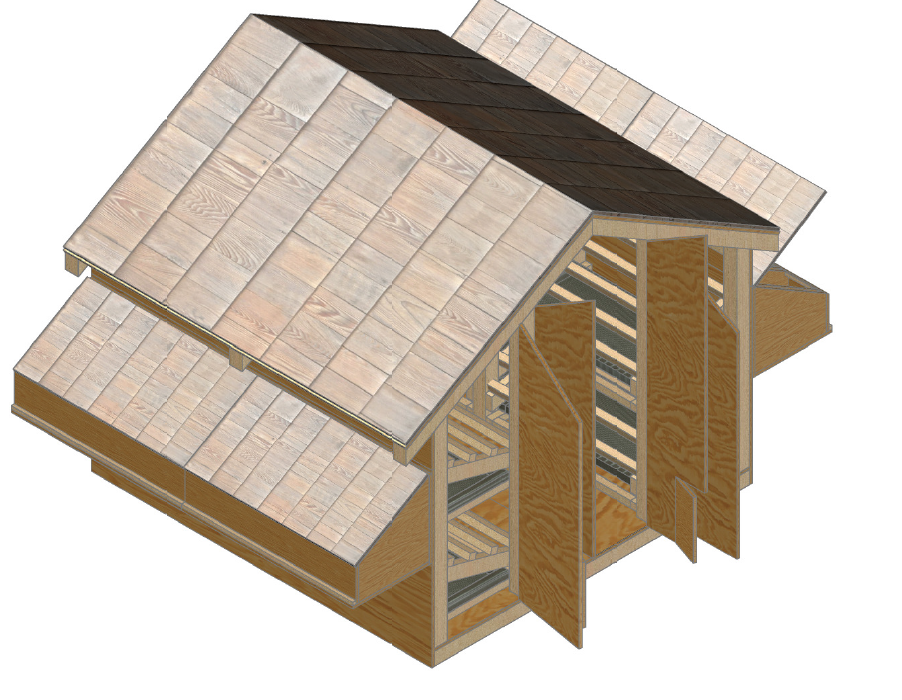 Design #7: Premium Large Coop- Housing a ton of birds and need an efficient birthing area for them? Perhaps you are selling eggs to distributors. If that's the case the Premium Large Chicken Coop is the perfect option. A beautiful design keeps ventilation in mind and has easy access points. This coop is optimal for those who have ten or more chickens. Wonderful for farms and large open areas.
Here Is A Small Sample Of What You Will Learn…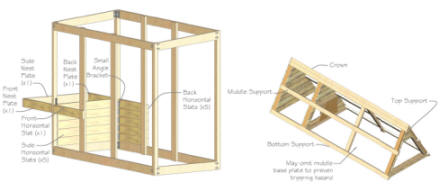 Full-color step-by-step scale plans
How to build a  chicken coop that is easy to clean, automatically collects eggs and allows you to maintain up to 50 chickens
6 

critical 

things you 

must

 have before you even think about 

starting to build a chicken coop

Easy to read tips on how to set-up your building site and select your materials that will make building a chicken coop quick and easy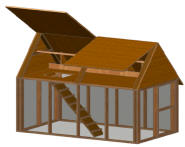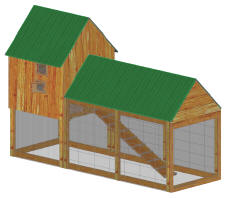 Double story chicken house and my personal favorite coop
How to build an extremely cheap all-in-one enclosed chicken coop for up to 4 large chickens

How to build a small portable chicken coop ark

 (chicken tractor)

 that makes cleaning simple and provides fertilizer

 where you want

How to build a large double-story chicken coop with an easy to access

 and clean

 nesting area up top

 and a spacious run down bottom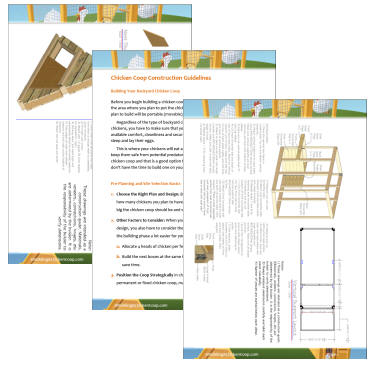 Detailed step-by-step instructions
Handy

 

expert 

tips 

on flooring, roofing, walls, nesting boxes, windows, doors, and perches

How to easily extend 

any

 coop into a free-range style enclosure
Inside tips on picking the 

correct

 breed of chicken for your climate, space and 

desired 

egg production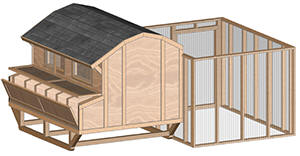 My portable barn style chicken house with optional run
How to easily breed chickens yourself and take care of the baby chicks so you have a self-sustaining flock
How to design a coop that keeps your chickens warm in even the coldest of climates
After building a chicken coop, we'll show you the 9 daily, monthly and yearly chores you must perform to keep your chickens healthy, happy and laying eggs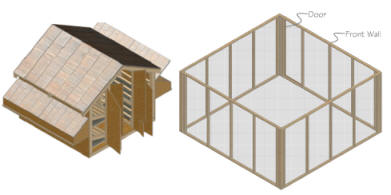 My large premium chicken coop with run
How to make a chicken coop protected from predators like foxes, coyotes, cats, hawks and so many others
The 8 foods that can be potentially harmful if you give them to your chickens
Learn what to do if your chicken gets sick and the 2 most common health problems and how to cure them
And much much more information

and plans 
Remember, there is absolutely NO RISK to you. You have 60 days to decide if you want to keep my book and plans "Building A Chicken Coop". You will get INSTANT ACCESS to the book, plans and all the bonuses:
Building A Chicken Coop [PDF] – $57 Value
Bonus #1: How To Best Position Your Chicken Coop [PDF] – $9.95 Value
Bonus #2: How To Build Nesting Boxes Using Common Materials [PDF]- $9.95 Value
Bonus #3: The Best Materials For The Ground in [PDF] – $9.95 Value
Bonus #4: The Cheapest Materials To Build Your Coop Out Of [PDF] – $9.95 Value
Bonus #5: Organic Gardening eBook Library [PDF] – $80 Value
I could easily charge $176 for all of these items, but I have put together a special discounted package together for just $97 USD.
---
You Get Everything For Just $29.95
All payments are handled by Clickbank on a 100% Safe and Secure Server.
I wanted to make the purchasing process so easy that anyone can do it in 5 minutes. All you need to do is click the "GET IT NOW" button below. You'll then be taken to ClickBanks® 100% secure order form. You do not need to sign up for any account, simply fill out your credit card or PayPal® details and follow the prompts.
As soon as you have made payment you will be directed to our exclusive members only page where you can instantly download your copy of Building A Chicken Coop and all your free bonuses.
It is that easy! So get started building you chicken coop today.
Wishing you many days of enjoyment with your new coop,


Building A Chicken Coop Author