Description
AT LAST! Discover How to Raise Healthy, Fertile Quail, Produce THOUSANDS of Eggs & Generate an Additional Income FAST – And All from Your Own Backyard.
Dear Quail Breeder,
Raising Quail is becoming more and more popular all over the world, due to it's speed, ease, convenience and low space requirements.
Quails are now classed as a delicacy in the US, and demand high prices from the restaurant trade as a result.
What's more, quail eggs are considered to be a 'super food' by nutritionists and doctors alike.
So tell me…
Are you interested in raising quail, but are in need of expert advice on how to get started?
Are you a seasoned quail breeder looking to take your breeding to the next level, while freeing up more of your time?
Are you confused about what type of incubator or brooder to use, how to set up your pens, or what to feed your birds to get the best results?
Are you currently breeding and raising quail, but are experiencing problems? (such as breeding issues, quails not laying eggs, poor hatch rates, chicks dying, quails fighting or cannibalising each other, etc.)
Do you like the idea of providing better, healthier food for your family? (the nutritional value of a quail's egg is three to four times greater than a chicken's egg)…
And finally…
Would you like to discover a proven, step-by-step system for raising quail the right way, from a seasoned expert with over 15 years of experience?
If you answered yes to any of those questions, then you're in exactly the right place!
In just a moment, you're going to discover…
How to breed and raise healthy, fertile and productive quail quickly, easily and cheaply
The right breeds of quail to choose for each purpose (with over 130 species available, not all quails are the same. I'll show you which ones to choose for their eggs, their meat, for keeping as pets, for restocking/hunting, for ornamental purposes, and more)
Where to obtain highly-fertile quail eggs (get this wrong and you'll be wasting heaps of time and money before you even start)
All the equipment you need (and don't need) to get started
Where and how to buy eggs online (buying eggs online allows you to quickly source quality quail breeds not available locally, but it's easy to make mistakes. I'll show you what to look for, what to ask sellers, how to know if the seller is serious, what to avoid, and much more, to guarantee great results every time)
How to avoid the costly mistakes that 99% of beginners make
How to start feeding your family the highest quality, organic and most nutrient-rich eggs and meat in the world
The shocking truth about chickens (you'll never want to eat another chicken again when you read this)
The incredible health benefits of quail eggs and their meat (the nutritional value of a quail egg, for example, is three to four times greater than a chicken egg)
How to master the art of selective breeding (I'll show you how to quickly and easily breed quail according to what you want, i.e. faster maturing birds, larger birds, more productive egg layers, birds with rare feather colorations/patterns, and much more)
Easy-to-follow hatching charts for every type of quail as well as other popular birds (with this vital information, you will know exactly when to stop turning your eggs, the perfect temperature and humidity levels you need to keep for optimum hatch rates every time)
The best type of housing for your quail (you'll be shown which locations to avoid, how to manage quail waste easily (and without getting dirty!), and taught everything you need to know about pest control, lighting, and more)
How to buy birds from a breeder – and get it right (this is the fastest way to get started, but you are at the mercy of the breeder unless you know how to spot whether the quail being sold to you is young and healthy, or old and sick. Here you will learn what you need to look for, and what to ask before you even see the quail)
How to create a real, sustainable and environmentally-friendly home based business selling live quails, their eggs and their meat.
Plus much more information from a quail breeder with over 15 years of experience!
"WHY RAISING QUAIL IS A GREAT HOBBY – AND AN EVEN GREATER BUSINESS"
Raising your own quail is incredibly easy, quick, and surprisingly cheap – and you can be enjoying (or selling) your own delicious, organic and gourmet quality quail (or their eggs) in as little as 6 weeks from now.
In fact, quail will put clean, fresh and high-quality protein on your table faster than any other type of livestock (more on this in a moment).
But that's not to say that you can ONLY raise quail for their eggs and meat.
You can keep them as pets too – and more and more people are doing exactly that. Quails are tame, beautiful birds, much quieter than chickens (so they won't annoy your neighbours!) and there are over 130 species to choose from.
But whatever your reason for raising quail, without the right advice and guidance; it's incredibly easy to get things SPECTACULARLY WRONG, which will cost you heaps of time, effort and money.
And let's face it, why go through months or years of trial and error, and dozens of mistakes, when YOU DON'T HAVE TO?
Today, I'm going to show you how to breed and raise quail quickly and easily.
And I'll even show you how to start a profitable home based business too – something I've done myself and now generate a 5-figure monthly income from.
"Why I've Decided to Hand over My 15 Years of Knowledge To YOU"
In all the years I've been raising quail, I've sold thousands of fertile eggs to prospective quail breeders and spoke with literally hundreds of people asking for advice on everything to do with raising quail.
I've received emails from all over the World, and I've always helped these people as much as I could.
But of course, I've never been able to dedicate enough time to providing them with a fully comprehensive, step-by-step guide for raising quail the right way.
UNTIL NOW!
I've decided to put everything I've learned about raising quail into an step-by-step system that anyone can follow.
And today, I want to share my secrets with YOU.
INTRODUCING…
Raising Quails Made Easy™
A proven, step-by-step system for raising healthy quail in your own backyard!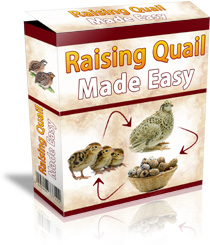 Here Are Just a Few Things
You'll Discover in
Raising Quails Made Easy™…
The right breed of quail to choose and why – You will discover the best quail breeds for beginners to start out with, as well as the breeds to avoid
Where to obtain highly – fertile eggs – Once you've selected your quail breed, the next step is to get some eggs. Here I'll show you exactly where to obtain fertile eggs to get started with.
The type of equipment you need – From incubators to brooders and pens, I reveal the best equipment in the business, and which incubators and brooders to get based on your budget and the amount of quail you plan to raise.
How to construct a quail brooder and pens – In this section, you will be given all the advice, tips and tricks you need to build your very own quail pens, pairing cages and brooders.
How to incubate your eggs – So many people get this wrong, which results in low hatch rates and time and money wasted. Here you will discover the right way to handle your eggs to avoid contamination, the correct egg turning technique, the ideal temperature and humidity levels for your incubator to maximize your hatch rates, and much more.
How to keep your chicks alive – Once your eggs have hatched, the next step is the 'brooding' phrase. Get this wrong and many of your quail chicks will be lost in their first few hours. In this section I reveal how to set up the ideal brooding environment cheaply, as well as the most common mistakes that will wipe out your newly hatched quail.
What to feed your Quail – In my quail feeding section you will discover the correct types of feed to use for quail chicks, breeders (in and off season), meat birds, egg layers, as well as quail for release.
How to feed your Quail – Knowing when and what type of feeding and drinking devices to use is a hugely important. Select an incorrect watering tray, for example, and your quail chicks could get wet and die from the cold, or even drown. Here I'll show you how to use an automated process for drinking and feeding which will save you heaps of time and effort, while keeping your quails happy!
When to move your chicks to grow out pens – This can vary depending on the quail chicks you're raising. Do it too soon or too late and your chicks might not survive. In this section I reveal the ideal time to go from brooding to grow out pens for each breed of quail.
How to take care of your eggs – After all that work raising your quail (keeping them alive until maturity and watching them lay their first eggs), the next step is to take care of those eggs correctly to ensure the highest hatch rates. In this section you will be shown how to properly handle your eggs, how to collect them and where to store them to ensure that they remain viable and fresh for as long as possible.
How to prepare your quail meat for eating – If you're raising quail for their meat, here you will discover how best to cook and prepare the meat for your family table, or for a paying customer.
PLUS! You will also be shown how to raise quails for release (to restock wild quail populations) and how to raise quails for the pet market.
And much, much more!
"How Much Is The Raising Quails Made Easy™? "
Before I answer that, just take a moment to consider how much better you'll feel in both mind and body when you and your family are eating your own fresh, organic and gourmet quality quail eggs and meat, as opposed to the meat and eggs produced from diseased, distressed and genetically mutated chickens.
After all, the health of your family is priceless.
Secondly, just think how much money this information will save you.
Let's say that you decide go it alone – without my 15 years of experience and knowledge – and try to do this yourself.
The chances are, you will make mistakes that could have easily been avoided.
By not following my proven quail raising system, you will waste money on incubation and brooding equipment, pen materials, feed, and much more.
But more importantly, many of your eggs will fail to hatch, and a lot of your newborn chicks will die.
Let's say that just 10 of your female quail eggs don't hatch – a tiny number.
It really doesn't sound like much, does it?
But get this…
Each of those quails would have laid at least 300 eggs in a year.
That's a whopping 3,000 eggs you've lost.
But not only that, if those 3,000 eggs were to be incubated and just 75% of them hatched and matured – it would mean that you've lost 2250 quails.
So let's assume that you would have sold those quails; how much money have you squandered?
Well, if we take a VERY conservative estimate and say that each quail would have sold for just $5, and we deduct $250 from the total for their feed, we end up with $11,000 of lost profit!
So tell me…
If you're serious about raising quail as a hobby, or as a business, how much would you pay for a proven system that will effectively GUARANTEE the highest hatch and survival rates possible?
$1,000 would be fair, right?
After all, that's still a huge bargain, because as you've just seen you'll save many multiples of that in your FIRST YEAR ALONE if my system saves JUST 10 more of your female chicks!
And if you're planning to raise quail for the long-term, you're looking at a saving of TENS OF THOUSANDS of dollars.
"But Here's the DEAL"
For the next few days, I've decided to do something crazy.
So if you order today, you're not going to have to pay $197… or even $97…
In fact, I'm not even going to ask you for half that.
Instead, for a very limited time, you can order Raising Quails Made Easy™ for…$37
I think you'll agree that $37 is an absolute bargain considering everything you're getting access to, and how much time, effort and money this system will save you – and 'make you' if you decide to turn it into a business like I've done.
But if that's not your thing, it doesn't matter.
You can simply use the system to raise quail as a hobby, and enjoy this bird's sweet, great-tasting meat, and put as many nutrient-rich, gourmet quality eggs on your family's table as you want to.
But that's not all…
As a thank you for ordering Raising Quails Made Easy™, I'm also going to give you these incredible bonuses, absolutely free!
Bonuses
How to Start a Business Raising Quail

As you've seen, anyone can raise quail and build a business. I did it – and you can do it too. Today, my business generates 5 figures a month, selling eggs and meat to the restaurant trade and local customers. If you'd like to do the same, I've created a special bonus called How to Start a Business Raising Quail.

In this comprehensive guide, I reveal my step-by-step formula that will have you profiting from quail in no time, including how to spot the right restaurants to approach, what to say (and what NOT to say) to prospective buyers to ensure the highest prices for your eggs and meat, how to correctly negotiate orders, and much more.

This guide is valued at $47 on its own, yet you're getting it absolutely free when you order.

---

You will also receive my comprehensive hatching charts with over 200 species of birds – including all quail species.

With these charts you will know the perfect temperature and humidity levels for each day of the incubation period as well as the exact time when to stop turning your eggs. This will ensuring optimum hatch rates and healthy hatchlings.

These charts are the most accurate charts available anywhere. They are valued at $45 and you are getting them absolutely free!

---

Whether you want to start raising quail as a hobby or as a business, you'll love the taste of the eggs and meat you produce.

In this special bonus, I've compiled some of the best and easy-to-prepare recipes for breakfast, lunch and dinner, so you and your family can whip up a great-tasting, healthy meal in minutes, and with the minimum of fuss!

Once again, this recipe guide is valued at $37, but when you order today, it's yours absolutely free.
So when you order today, you're getting access to Raising Quails Made Easy™, How to Start a Business Raising Quail, Hatching Charts and Quality Quail Recipes for the ridiculously low price of JUST $37!
But hey, even though that's a tremendous bargain, I still understand that you might be a little unsure about investing even $37.
And I totally get that.
After all, you don't know me at all.
So to show that I'm genuine, and that I really do want to help you, your order is also going to come with the following…
"Rock-Solid 60-Day Money-Back Guarantee!"
When you order today, you can put Raising Quails Made Easy™ to the test for a full 60 days, completely risk free.
So right now, you don't need to say 'yes'.
You just need to 'maybe'.
You can then work your way through the entire program, follow my step-by-step quail raising process for two whole months, at zero financial risk to you.
If you're not absolutely blown away by the results, or you simply change your mind for any reason at all, then all you need to do is send me an email (address provided with your order) within 60 days of your investment and I will refund every single cent, with no questions asked, and no hoops to jump through.
So go ahead and order today, and try out Raising Quails Made Easy™ for a full 60 days, on me…
You risk absolutely NOTHING!
P.S: This is the EXACT same step-by-step system that I use to run a 5-figure quail raising business from my own backyard.
But remember, you don't have to do the "business" part. You can simply use this system to start raising quail as a fun and fulfilling hobby, and save yourself heaps of money and months (or even years) of time by avoiding the common mistakes that 99% of beginners make.
P.P.S: Don't forget, this is a strictly limited time offer. I intend to raise the price to something approaching its real value very soon, and I honestly don't know when that will be. It could be next week, it could be tomorrow, or it could be in the next few seconds. So be sure to order now so you don't miss out on this huge saving.
P.P.P.S: Being sceptical is natural and healthy, but I've made sure that there's absolutely no risk to you. When you order Raising Quails Made Easy™ today, you're fully protected by my rock-solid 60-day money-back guarantee.
In short, if you're not 100% happy with the system, you won't pay a red cent.
Order now and lock in your huge saving while you still can.
You risk absolutely NOTHING!
Click on the image below and you will be re-directed to the seller's website to make the purchase and get more information: